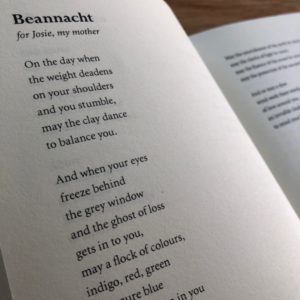 On the day when
The weight deadens
On your shoulders
And you stumble,
May the clay dance
To balance you…….
It was a grey Monday here. There have been an awful  lot of grey days here this summer. But this Monday hung particularly heavy. I worked outside much of the day – digging, digging, digging. One thing led to another as I pulled weeds, moved huge rocks, dug out shrubs and ultimately disassembled an overgrown mess of an old fountain feature in our new-to-us side yard. I hadn't planned to take it apart and completely clean out when I started to dig that morning, but by the time I found a place to stop it was 4pm. I had worked through lunch and missed my window for afternoon coffee, but before a shower and dinner, I swapped garden clothes for running clothes and laced up my shoes for an easy hourlong run. Wearing shorts and t-shirt, I felt the bite of a just barely 60 degree day as I headed north through town to the head of the Coastal Trail, where a downtown city street dead ends and the trail begins.
It was the last Monday in June. A grey day so much like this one, in fact. Mountains in my view. Chill air filling my lungs. I've written about that day before. Of course. Over and over and over I try to make sense of what happened to me that Monday morning in June, thirteen years ago today. A brain injury is a thing. A frustrating, confusing, messed up thing. It changed my life. It still frames my life.
As I ran the trail Monday afternoon, I moved at my target pace with ease. My training has been good this season. I could feel strength in my legs, the determination of my will, and the rhythm of my every breath.  My body is jennifer-strong these days. I sense the edges of my strength and I am careful there. Off the trail, through the neighborhood, and up a final hill just because I could, I ran to the end of my hour with no trouble. Except for that weight that had been pressing against me all day. All that digging. A solid, good training run. Yet there was….something. I couldn't yet name.
Later that evening as the boys sat around the TV watching an episode of Chips, I put on a coat and went out for a wandering walk. Rain began to sprinkle as I got close to the lagoon so I pulled up my hood and hunkered in. I stopped there awhile and watched the mass of birds out on the island. So much activity in this season of babies. It all seems chaos to me. Screeching gulls fly to and fro, gaggles of geese march around calling out with their own loud voices, and terns dart about on the wind. Closer to shore, I watched a quiet duck dive under water and emerge in a different spot a few minutes later. Over and over. Minding her task, eating an evening meal against the soundtrack of all that noise.
After awhile the rain stopped as gently as it had begun and I pulled my hood off and started to walk again. As I walked I realized that I finally knew what I'd been struggling to name all day.  It was sadness. On this grey day, the last Monday in June, the 13th anniversary of that car accident…..sadness.
For that. This >>>
Beannacht by John O'Donohue. You can hear him recite it here.