Seven weeks short of 13 years since the car accident that changed my life >>
I stopped by the Brain Injury Association of Alaska this morning to see what they've got going on. Awhile back a friend suggested that I might find a place to contribute there – tapping my background in nonprofit communication work, perhaps I could volunteer, network, find a path. Since I gave up my teaching career long ago and seem to be chronically looking for the path (and expecting to be finished with my work at the library by the end of the summer) I thought perhaps now could be a good time to check the BIAA out. But truthfully, though I couldn't verbalize it yet, there was much more behind my "stop on a whim" today.
Located on the first floor of a quiet midtown office complex, the BIAA office was easy to find. At first I thought it might be closed, the lighting inside was dark and the time was noon hour, but when I tried the handle on the door it opened into a large, emptyish room. Two ladies were sitting on a couch at the edge talking quietly with a large dog sprawled out, dozing at their feet. I stopped in the entry and glanced at titles of brochures on the wall: "adults living with brain injury" … "finding support after brain injury" … "life after brain injury: a guide for families" ….on and on. There were many.
As I stood orienting to the room and wondering what to do next, a lady emerged from a back hallway and walked across the empty space to greet me. I didn't really know how to start or what I hoped for exactly, so I told her my name and that I was just curious to see what they offered there. She told me a couple things I already knew from their website and then asked me what my interest was.
"I am a brain injury survivor."
Right there. My brain flooded and I lost my bearings. Tears rimmed my eyes as I struggled to focus and find words to explain myself in that moment. I stumbled through some stuff, backtracked, and repeated. She was gracious and kind. Serving up first impressions for volunteering and networking, yikes! But looking for a brain injury support group, I nailed it.
And really….that. is what I was looking for.
Because one thing I know full well 13 years later. Grief is not a staged out checklist.
---
I snapped this page from Julia Samuel's helpful book Grief Works: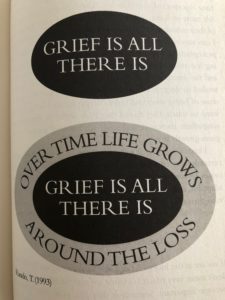 And a friend recently posted a similar visual on facebook:
https://www.facebook.com/bbciplayer/videos/2168915343327846/UzpfSTE0NDkzNTA2MzE6MTAyMTQ5ODY0ODg0MDI4ODE/