It's been a beautiful month of March here in Anchorage! A few late February storms delivered us a nice pile of snow and then we got a long stretch of cold, clear days. The ever lengthening daylight on this side of solstice only added fuel to all the good cheer. This month we started seeing our beautiful sunsets at regular hours and the morning commutes moved into the daylight. And March skiing is THE BEST. (though I only got to test that truth 1x this year)
This morning we woke up to a light dusting of snow, effectively breaking a 28-day-streak of no precipitation measured at the airport. We have a weather warning in effect which predicts 5-9 inches of snowfall tonight and by the end of the week we are supposed to shift up to 40 degree daytime temperatures. With that will come all the delights of Alaska spring. But before the meltdown….a couple highlights from my not so active winter –
After spending this winter recovering from November ankle surgery, I'm (sort of) back on my feet again. A couple weeks ago I passed strength and range of motion tests and graduated from physical therapy just in time to put on my skis for a super tame 15 minutes of cross country on a gorgeous Saturday morning at Russian Jack. That activity knocked me right back on my butt, foot up again. Clearly it would be my only ski this winter, but it was fabulous.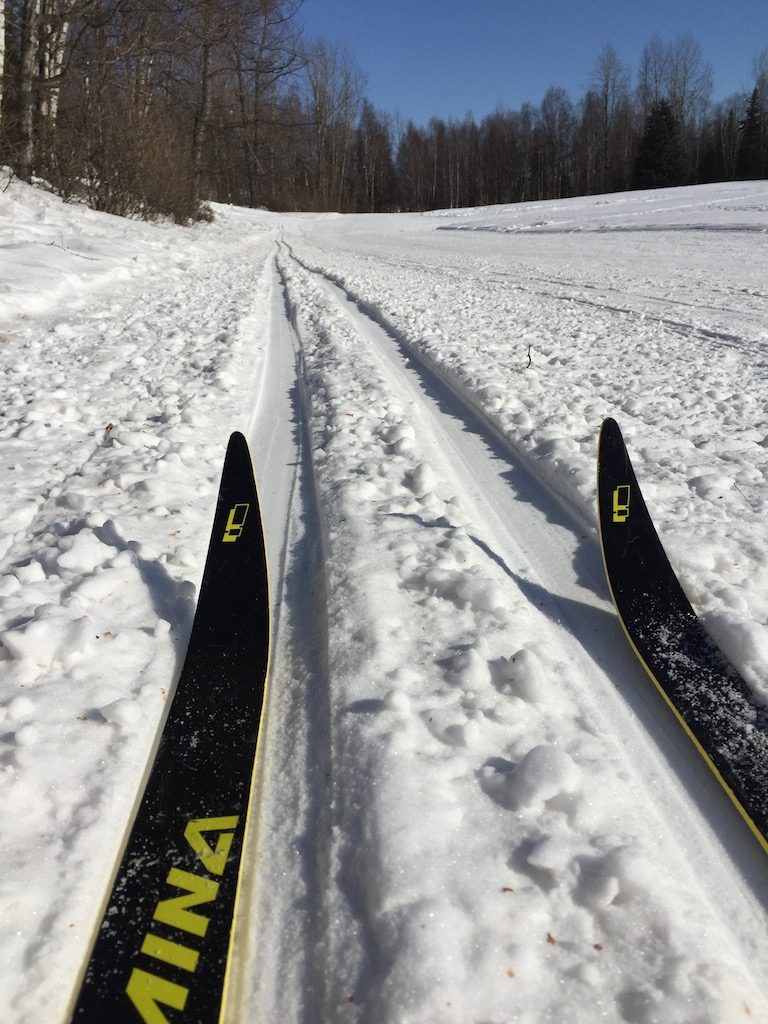 Yesterday was Seward's Day and David didn't have to work so we reserved the Rapids Yurt  and Sunday afternoon we set out for our first family camping adventure in several years! It might seem an easy re-entry to the world of sleeping bags, backpacks, and camp fires – this easy 2 mile hike through the woods to spend 24 hours at a yurt. But we have moved our all our belongings 5 times and many miles since the last time the four of us sat around a campfire eating smores before crawling into sleeping bags for the night. David sorted through our jumbled collection of gear and managed to get us all outfitted for this occasion (no small task – considering some of the gear had aged out by condition or size AND the night time temps would be cold).
We drove 30 minutes up to the Nature Center where we parked in a full parking lot. A wilderness medicine class was finishing up at the Nature Center and it was a beautiful afternoon to be out hiking so there were a lot of people around. Because of my ankle, I couldn't carry a pack on this trip.  It's common to see people dragging loaded sleds behind them around here and that is what I had imagined we'd have to do. But David's friend lent him a kicksled. I was skeptical at first, not really sure what to expect, and feared it'd be more trouble than it was worth, but I quickly discovered that this thing is awesome! David loaded it up and we headed out on the nicely groomed trail, leaving the "crowds" (probably not really what you think it means) behind. Ethan mostly led with the sled, though the boys traded back and forth, riding the downhills and kicking the uphills, gliding through the straights.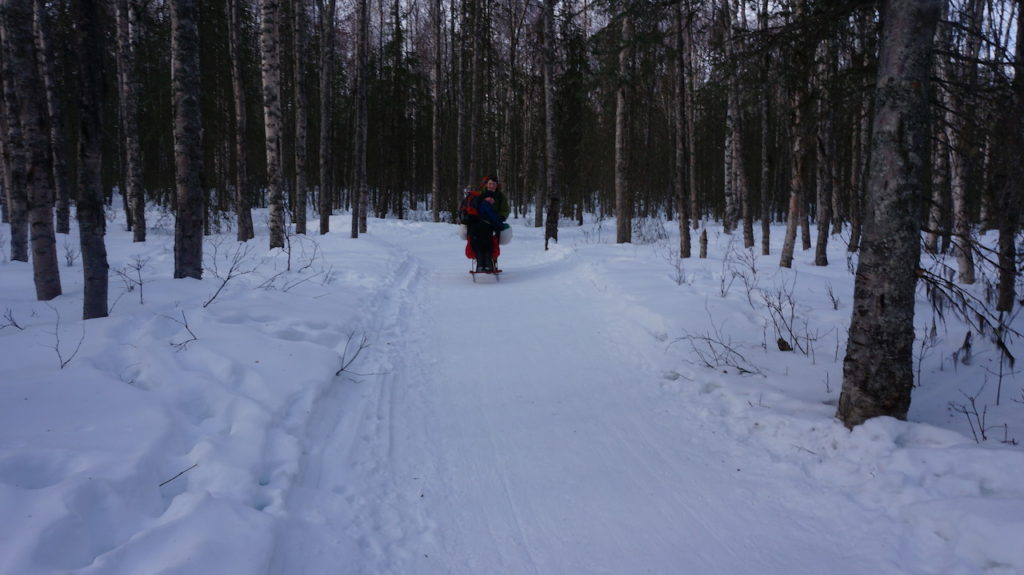 We've explored the close-in trails and stood on the viewing decks near the Nature Center many times. (The boys took a weekly homeschool science class at the Nature Center the first year we lived in Alaska and we've attended a variety of events here.) This past September we took a family hike out as far as  the Rapid yurt and so we all had recent memories of the landmarks on the trail, though this time covered in a blanket of snow.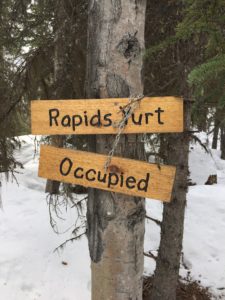 Arriving at the turn off from the main trail, we flipped the sign and headed over the rise to the yurt. I'd never stayed in a yurt before and wasn't exactly sure what to expect. I'd poked around here when I'd hiked out with a friend in September, but still….I was impressed to find the facilities and surrounding area so clean and well kept. Firewood was provided – there was a stockpile of it in a nearby shed, but also a stack inside by the stove. The outhouse was clean and several rolls of toilet paper were in new ziploc bags there (the instructions had been to bring our own). There was even a bottle of hand sanitizer on the table in the yurt – though I wouldn't count on that in the future. Besides the wood table, the furniture included a plywood bunkbed, wooden bench, and several old folding chairs. There was a fire extinguisher, a couple shovels, hatchet, and an axe.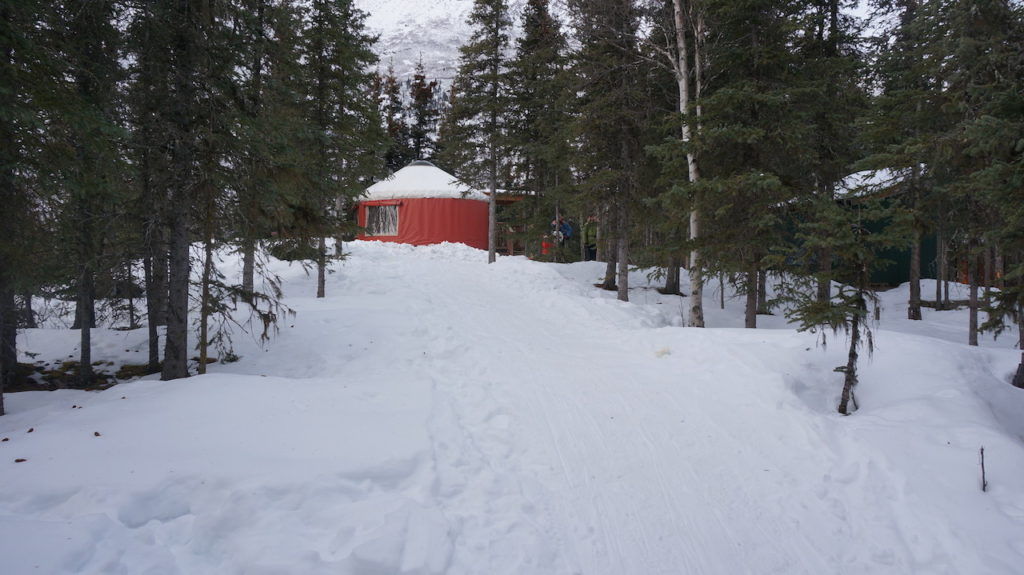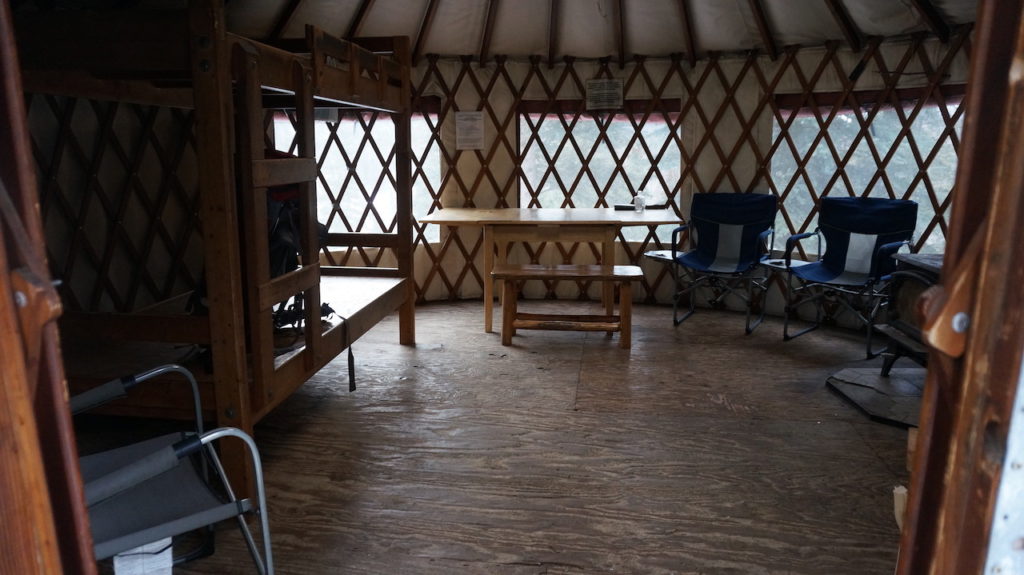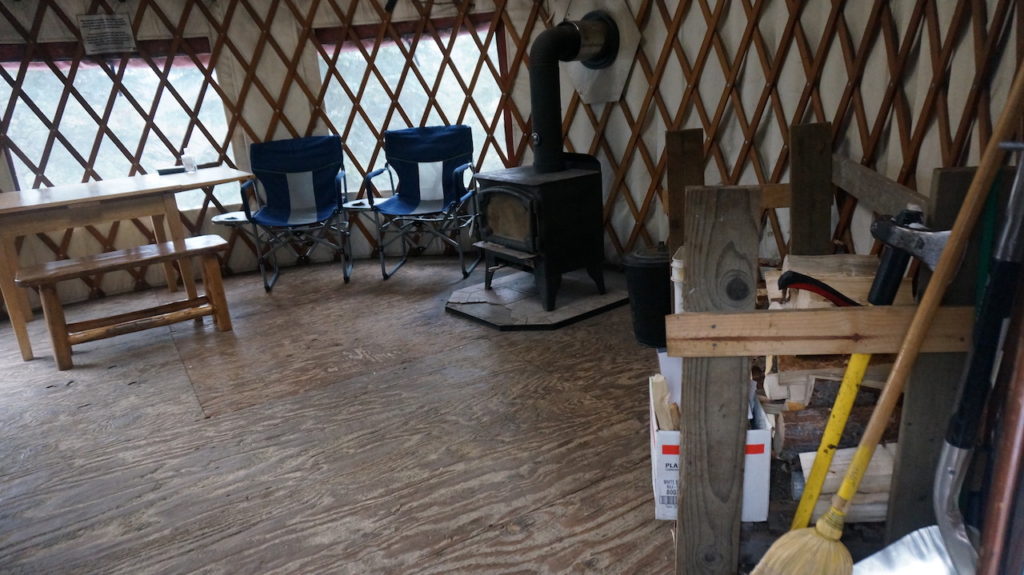 It was about 4:30 when we arrived. The boys went out to scavenge some firewood for the outdoor fire pit (the instructions were strict: volunteers stack and haul the wood for the inside stove – do NOT burn it up in the outdoor fire pit. For that – you must go find your own.) David unpacked sleeping pads and bags and started a fire indoors while I wandered around taking pictures and generally breathing in the beauty of it all. On the hike I'd found myself thinking how much I love it up here and wondering why we hadn't come up more this winter. It took a minute for me to connect the dots and remember that I'd spent most of the winter sitting foot up, looking out my window. What a gift to be outside now  – on this beautiful day that looked winter, but felt like the edge of spring.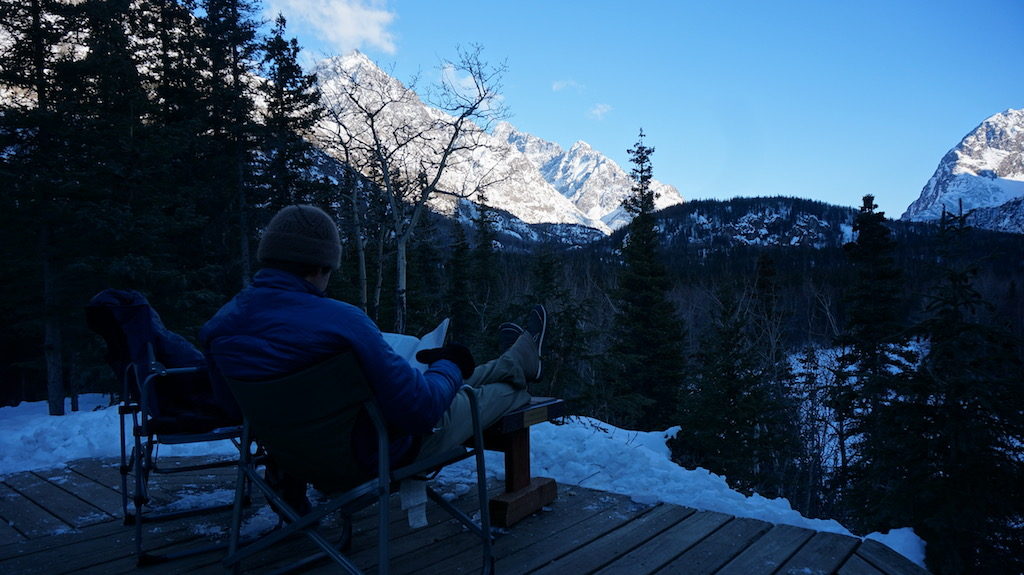 The boys found enough wood to set an outdoor fire that they figured would last long enough to cook dinner, but since it was still a little too early to eat, they went with David and followed a trail down to the frozen river where they explored a little bit (David biked the Icy River Rampage through there in early February). Meanwhile, I dragged a folding chair out to the deck and sat bundled up under a blanket to read a magazine. It was perhaps a bit of serendipity to have randomly grabbed my January issue of The Sun that included Christine Byl's interview with Eva Saulitis, and this is what I turned to. ("Science is an organized form of wonder……I also have a sense of wonder at what we can't know….What do I hope for today, for the next month?….The Chugach transients will be lost to this earth, and yet the (Prince William) Sound is a place where healing continually occurs….. ")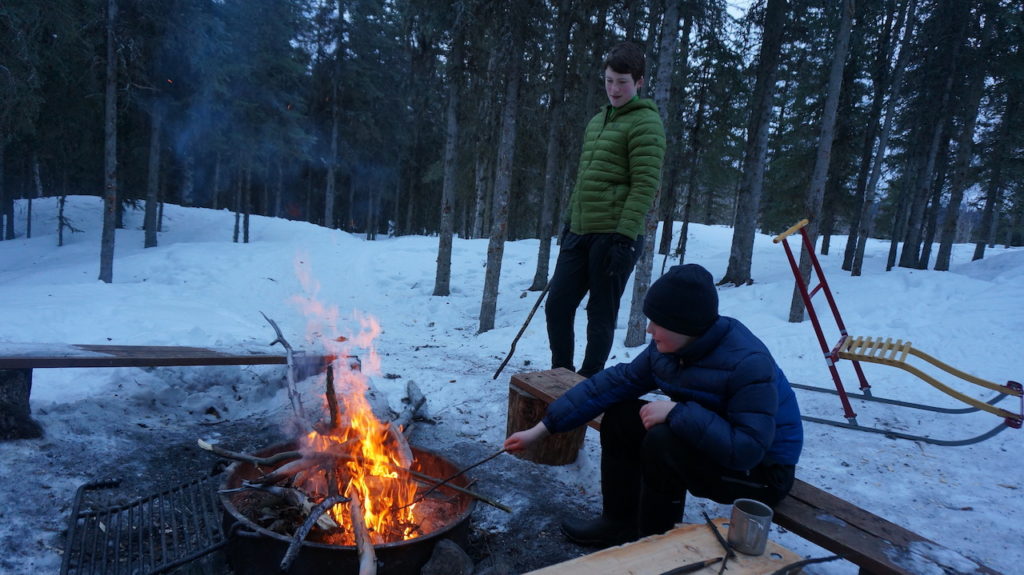 When the boys got back Ethan lit the fire and we roasted hot dogs and marshmallows, sitting close by the fire for warmth. Too soon (though plenty long for cooking our supper) the fire burned out and we moved inside where we settled in for a game of Rook. It's so fun to have the boys at this age and stage, telling stories and playing cards by the fire. Ethan began to fade about 9:30 and so we all tromped off to the outhouse before coming back in to get him snuggled into his sleeping bag while the rest of us sat by the fire with our headlamps and read. Ryan really wanted to see the night sky – living downtown, it's so rare that he gets to see the star-filled sky. By 10:30 the twilight had faded into black and the three of us bundled up and went back out to the deck to study the night sky. David and Ryan identified stars, constellations, and spotted several satellites. The northern lights came out in a faint white, but active display of grandeur (we heard they were quite pretty later in the night, but we slept through).
Back inside, we stoked the fire and snuggled into our sleeping bags. It turned out to be a remarkably comfortable night reported by all – with periodic fire adjustments, various sleeping bag combinations + clothes and coats, we each managed to stay warm and cozy in spite of the freezing temps outside our yurt walls.
In the morning the boys went back out in search of fire material and managed to light a bagel-toasting flame that kept us warm and entertained till we had to pack up, restock the indoor woodpile, sweep, and hike out in order to get Ryan to his art class in south Anchorage by noon.  On our hike out we saw the cabin sign was turned to "unoccupied" so we took a quick detour to check it out and have now added it to our "let's stay here sometime" list.