I think we lose sight of the beauty, the most beautiful things I look back on in my life are coming out from underneath things I didn't know I could get out from underneath. You know, the moments I look back in my life, and think, those were the moments that made me — were moments of struggle…..Hope is a function of struggle.
-Brené Brown, On Being Interview with Krista Tippett, 11.22.12
It's not uncommon that I'll get nearly to the end of my treadmill run in the morning and flood with temptation – "I'm tired of this and it won't make any difference if I just get off now." Usually I'm only about 2 − 3 minutes from the end and stopping really wouldn't make much difference. Except that I've wrestled this one down and for me it has really become a metaphor for NOT Quitting.
In December 2005, 6 months after my head injury I read Gifts from the Broken Jar by head injury survivor PJ Long, and copied this to my journal: I realized that what is initially most troubling for brain injury patients is their diminished ability to function. "Not doing the things I used to do" translates pretty quickly into "not being the person I used to be." It is that perceived loss of self that lingers and can become so devastating (226) .
I followed this entry with my own reflections: I continually find it affirming to look at the stories of other brain injury survivors. My feeling of alienation is not unique. It's a hard thing to explain to my world….the people who look at me and talk to me and think….wow, she's doing great! The reality as I expressed to one of my therapists Friday is….there isn't anything in my life that I do now that isn't in some way impacted by my head injury. I don't live a moment of my day that isn't touched and colored by this new brain. This brings incredible frustration. I just want to be done. And done isn't an option.
Done is always an option on the treadmill, but what about real life when it's not?
My journal entry continues: I want to quit. I don't like this game. Nobody asked me if I wanted to play. I have to learn so many new ways of living my life. Living is not automatic. It requires new strategies. And then there are constant reminders that what I knew is gone and what I know is new and difficult, and what is coming is completely unknown. I don't like this game. I don't want to play.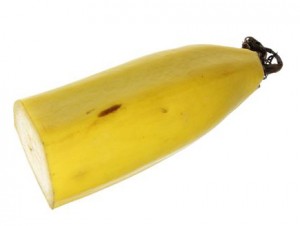 In Fall 2004 I walked the Portland Marathon. I'd maintained a really good pace when all of the sudden somewhere about mile 23 I just wanted to be done. My legs started shaking and I imagined falling off to the side of the road in an exhausted heap. Miraculously, just ahead were volunteers handing out 1/2 bananas.
I. Don't. Like. Bananas.
But that half banana saved me. It was just enough nourishment. I kept moving and finished the race strong. And I learned two things.
1. Hope is born in difficult places.
2. Hope can take surprising form.