BAM. Facebook served up a fabulous On This Day 2009 picture for me today.  Dandelions in the hand of a child.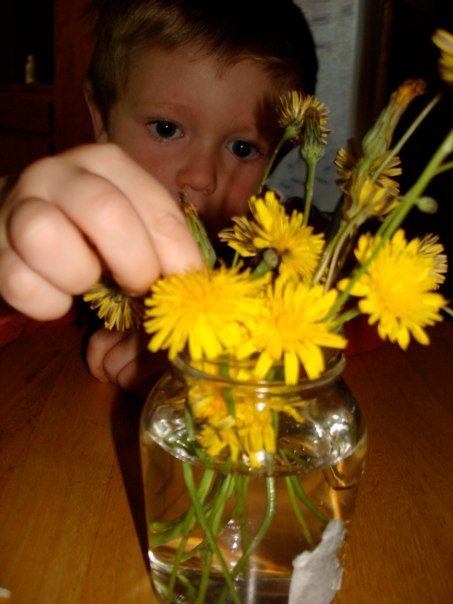 I've been thinking about dandelions a lot lately because I've just wrapped up a 6 week writing class and for our first assignment we were supposed to "find some small thing and describe it in less than 500 words…stick with the physical, concrete existence of your subject." I put on a jacket, pulled up my hood, and walked across to the Park Strip to sit with a lone dandelion one stormy spring evening in May.
Dandelion.
Bright yellow button perched atop a slender straight stalk, you poke your head above blades of deep green. All around you, brothers and sisters fell this day; sliced, mashed, and buried in a tangle of green. Still you stand, strong in the long evening light. The wind gusts with intermittent violence across the wide field just now. Tree branches bend to each harsh call and leaves dance, resilient and strong. In spare acknowledgement, your slim naked stem simply shudders at each blow.
Salty-sweet rides on the air at the edge of this storm and you add nothing, but the earthy essence of your very being. You offer no hint of the roots which anchor you against the bluster. Toothy green leaves simply spread flat to the ground at your base. Straight narrow lines rise to draw a rubber-smooth stalk and then break at your neck. Zigzag triangles, curled back in shades of light green and brown. Nestled at this peak, strong green fingers gather to stand taller still and form an elegant dark vase. A bold presentation for your head of gold.
There is a time when your soft golden petals relax in open reflection of sun, but this is not that time. Tonight your head, this yellow cluster of paper-thin ribbons, holds stiff and steady in a series of concentric rings. Each short ribbon stands in position, together. Straight and tight. Robust and defiant, you raise your bright head. In beauty, with grace, you ride out the threat of this storm
Meh. Not really anything I'd ever mean to publish. (yeah. okay. I sorta just did.) But the crazy thing is that after that I couldn't stop thinking about dandelions. And then a couple weeks later this happened. Glimpses of grace. Fists full of Gold.