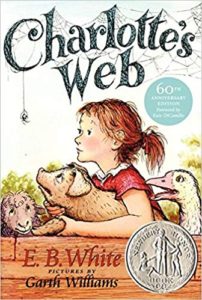 "Why did you do all this for me?" he asked. "I don't deserve it. I've never done anything for you."
"You have been my friend," replied Charlotte. "That in itself is a tremendous thing."
A few weeks ago I discovered that my 7th grader doesn't know the story of Charlotte's Web!! And so I went over to the bookshelf and pulled out the hardback copy my Grandma gave me for Christmas when I was 6 years old. What a sweet story of friendship, told through wonderful writing! As I read to the boys I stopped often to reflect on word choice and imagery. Beautiful. I'm only sorry that…..well. spider. phobia.