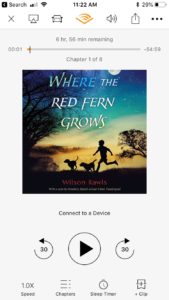 "Men," said Mr. Kyle, "people have been trying to understand dogs ever since the beginning of time. One never knows what they'll do. You can read every day where a dog saved the life of a drowning child, or lay down his life for his master. Some people call this loyalty. I don't. I may be wrong, but I call it love – the deepest kind of love."
It's been a long time since I'd read this classic. As we listened to it, I found myself thinking  down some trails – thoughts for another post (or two) to come…..Stuff on the dog wanting disease. And also on prayer. Not the same post, but perhaps.
But for now, this >> when I did a quick google search to doublecheck my spelling of Rawls, I saw a post by educator, author, and read aloud expert, Jim Trelease that caught my eye. I clicked and there learned that Rawls burned his original manuscript for this story, only rewriting it at his wife's urging. (She then pursued its publication.) Intrigued, I read on and, among other things, discovered a 5 part video series that Trelease posted to share Wilson Rawl's Dreams Can Come True speech. It traces Rawl's journey "from the poor dirt farm in Oklahoma Cherokee nation to the status of celebrity author." If you have time and interest you might enjoy the link trails – the Trelease post above and the video links below.
Part One
Part Two
Part Three
Part Four
Part Five