One day last week I was out running on the Coastal Trail when I heard a familiar whirr behind me. It took me a pause to identify. It was not the sound of bloated fat bike tires rolling over pavement or the subtle hum of an ebike, but…. rather, a Segway!!! With the ever growing popularity of ebikes and one-wheels, and the tourist downturn in the last couple years due to COVID, I'd nearly forgotten about the Segway! Segway tours through our neighborhood used to be one of my signals that tourist season was officially open. Apparently, that's still true. I smiled and waved as a line of tourists standing on their two wheeled platforms with two hands gripping their handlebars, steered past me and eventually out of sight.
Then, this past Friday, as I ran along the southern shore of the lagoon on my way to connect with the Coastal Trail, I spotted my first baby birds of the season. Tiny fuzzy yellow goslings stood on land at water's edge, munching grass under the attentive DON'T MESS WITH OUR BABIES watch of their parents.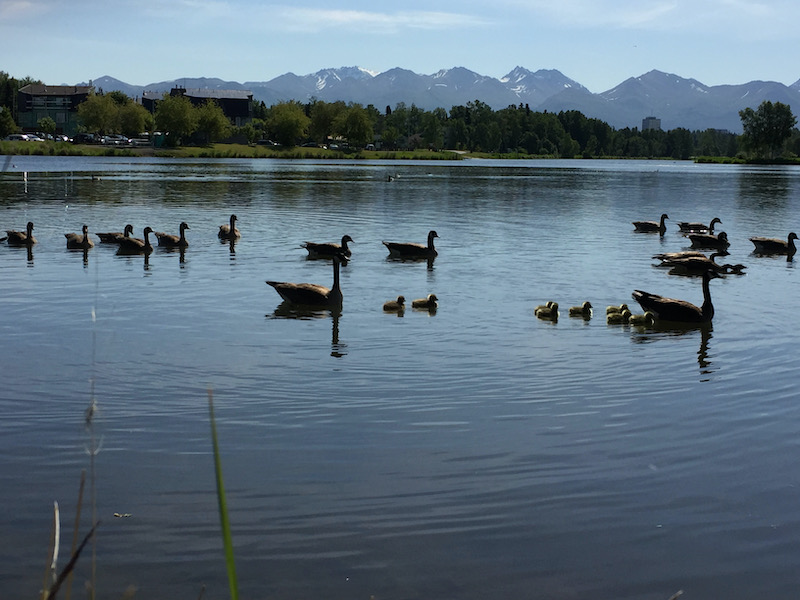 I ran on a little bit further and turned north on the Coastal Trail, weaving a path through the congestion of lunchtime walkers and tourists (cameras hanging from their necks and neighborhood maps in their hands), and as I did so, I found myself running back through time.
We moved to Anchorage ten years ago in September, and at the time, I had no idea what it meant to live in a tourist town. We arrived during the rains of September when daylight was disappearing at the rate of more than 5.5 minutes each day and by Halloween our boys were trick-or-treating in snow that stuck around for many months after. I learned to drive in snow. I wore boots and hats and gloves and coats. (And Skhoops!) I carried my groceries across parking lots blanketed by ice and snow and slush and slop. The dark was long. The air was very very cold. I skied and learned to recognize the local winter birds. I skated on ice and watched moose amble through our yard. I stood beneath the Northern Lights as they danced across the great big Alaskan sky. And then, when the days lengthened and the snow and ice melted into spring (I mean – it was finally May!), I remember what it felt like to step onto the Coastal Trail after Memorial Day. Where in the world had all these people come from?!? I had just successfully logged my first Alaska winter, which was no small thing! and suddenly all these people were getting dropped off by ship and plane and bus, spilling out onto the trails. Ah! but I quickly discovered that when someone with a map in hand would stop me to ask how far….or which way….. I asked the next questions, where are you from…..and what have you done/are you doing while you're here? Ten years later, I still do this. People come from all over the world to explore this amazing place and scratch Alaska adventures off their bucket lists, and I enjoy visiting with them, sharing mutual delight in the wonder of this place. This place I've learned to call home.
There's a company downtown that offers a horse-drawn carriage tour, selling gorgeous mountain views at a leisurely clip-clop pace, and if patrons purchase the hour-long ride, it brings them down by the lagoon and past our house. The schedule is just infrequent and random enough that we usually pause to look up when we hear bells jingling and the approaching slow clop of a neighborhood tour. I still find it sort of funny to feel like I'm getting swept into somebody's magical Alaska tour while I'm simply doing regular stuff like pulling weeds in my yard after 10pm on a summer evening.
As I finished up my noontime run on Friday, and turned toward our house with its sale pending sign hanging in the front yard, I couldn't help but think that a day is surely going to come when I will be the one getting off the plane with my camera. It'll probably be just when the trails get easy and the days get long. I won't hire a horse-drawn carriage and I won't need a map for my trek back through these neighborhood trails that I so deeply love, but if you see me standing by the shore, looking a bit lost in memories as I watch the birds, I'd be delighted if you stopped to ask me where I'm from.