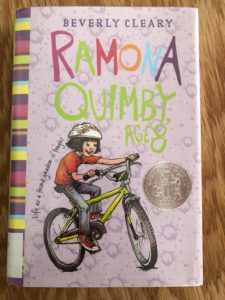 "We have our ups and downs," said Mrs. Quimby, "but we manage to get along, and we stick together."
…..Ramona snuggled inside her car coat, feeling cozy enclosed in the car with the heater breathing warm air on her nice family. She was a member of a  nice sticking-together family, and she was old enough to be depended upon, so she could ignore – or at least try to ignore – a lot of things.
It was a fun bit of coincidence that we got to The Hard-Boiled Egg Fad chapter on Monday – the day after Easter/April Fools Day. We'd been to friends' house for Easter and while hanging out at their neighborhood Easter Egg hunt there we heard one mother apologize to another for her husband's April Fool's joke – he'd supervised the egg dying and included a few raw eggs in the activity. Which brought us to Jimmy Fallon's Egg Russian Roulette game. We hadn't seen that before and enjoyed watching a few episodes after reading about Ramona's egg disaster.
Speaking of Easter Eggs – sort of. We learned Mr. and Mrs. Quimby's first names in this book! I'd never thought about the fact that we didn't know them until they were revealed through simple one liners in separate chapters. Do you know what they are?