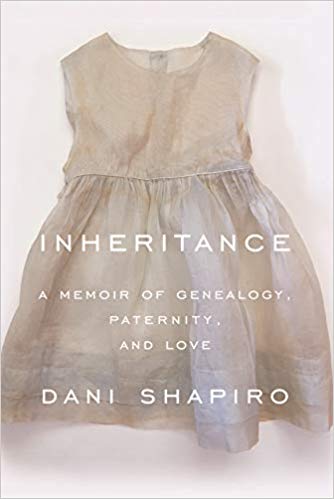 Throughout history, great philosophical minds  have grappled with the nature of identity. What makes a person a person? What combination of memory, history, imagination, experience, subjectivity, genetic substance, and that ineffable thing called the soul makes us who we are? Is who we are the same as who we believe ourselves to be? 
I am a big fan of Dani Shapiro, but this brand new book of hers was not my favorite. not even close. I'm still thinking about my why. Perhaps it is because she raised many questions that resonate with my own, and yet I felt unsatisfied with the ways she explored and resolved them in this book. I wanted more. I'm still thinking about what I mean and maybe I'll circle back to explain myself later.
Nonetheless, I highly recommend anything by Dani Shapiro, Inheritance included. But if you've never read her – I wish you'd start with her previous book Hourglass. It's beautiful writing, so insightful, and it works for me! 🙂 Her book Still Writing is one of my very favorite books on writing.
I didn't realize Shapiro reads the audible version of Inheritance herself – I totally would have read it that way if I'd known. This particular after-the-fact-aha! seems to be a theme with me this year. I need to start checking to see who reads the audio version before I read for myself!!