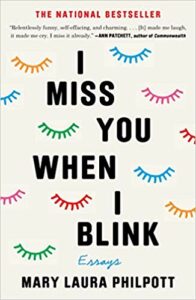 The picture you get at the end of a connect-the-dot activity really depends on which dots you decide to use. So try things and go through phases. Put down a lot of dots. Later you can look back and pick any of those dots to create a picture of how you became who you are. And if you don't like the picture you end up with, you can always choose different dots, which just goes to show destiny isn't all it's cracked up to be.
This book of essays as memoir was laugh out loud funny at times and fun to read all the way through. But for me it also felt jumbled and too wide ranging – making me work to connect some of the dots. It was thoughtful, but it also felt very particular to white middle class mom culture and stopped short in the development of some resonate universal themes.
I enjoyed the two interviews I heard with Mary Laura Philpott in August >> First here with Anne Bogel on What Should I Read Next, which inspired me to request Philpott's book from the library. And then it was fun to find the book had arrived on my hold shelf the same day I listened to Jonathan Rogers interview her on his writerly podcast, The Habit. (+it's fun to hear her talk about Parnassus Books, having been through there myself these past two summers).