Sitting in my chair by the window this morning, I was thinking about my September calendar and only half attending as I read aloud to the boys. Blue sky + white puffy clouds + sunshine replaced yesterday's cold rain in my window view as my eyes ran fast across the words on the page in front of me. We've been working our way through a book list that features early America, and this morning we were reading The Cabin Faced West by Jean Fritz. It's a sweet little story for younger kids about life on the western frontier = Western Pennsylvania in 1784. It's a quiet tale about a little girl, Ann, who has moved with her family from Gettysburg to western Pennsylvania. Ann didn't want to move west. She misses her cousin Margaret, school, and her life back in Gettysburg.
When we started this book a couple days ago, apparently I skipped the first page, which turned out to be basically a brief introduction by the author.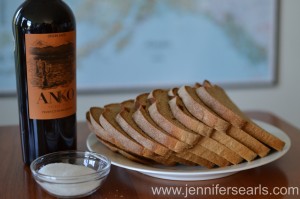 It clearly hinted that something toward the end of the story was true….and cool. I missed it. So this morning when we got to the part where George Washington appeared out of nowhere and asked Ann if he could come to dinner that evening, I guffawed. or something like that.
Then I read the final pages of the book and discovered the "postscript from the author" which essentially revisited the point of the first page: "Most of what happened to her (Ann) in this book is just a story, but some of it is true. There really was an Ann Hamilton; she was my great-great grandmother. As long as she lived, she told the story to her children and her children's children, about the wonderful evening when George Washington rode up Hamilton Hill."
Ah well. That IS cool.
But just prior to reading this remarkable bit about a famous dinner guest, I had been drawn out of my plans for September by this scene where Ann receives a surprise new cover for her diary:
Ann fitted the new deerskin cover over the diary. It was very handsome, made from the underpart of a deer's skin where the brown shades into a honey color. It looked like a real frontier diary now, Ann thought as she stroked it. She began to turn the pages over, re-reading parts she had written. All at once it struck her that on the inside her diary wasn't much like a frontier diary. For the first time she noticed that she had hardly written anything about the Western Country. Most of her entries were about Gettysburg, about Margaret, about her homesickness. If any outsider were to pick up this diary and read it, he might not even know where it had been written. She turned the pages more slowly. She had never mentioned what Hamilton Hill looked like. Ann jumped up. She didn't want to think about Hamilton Hill now. She didn't care if her diary did have a handsome new cover, she didn't feel one bit like writing in it. She went inside the cabin and put the diary up on her shelf.
All day long as Ann went about her chores, she felt out-of-sorts and out of courage (emphasis mine). It wasn't only that the McPhales had gone East while she was staying behind. She didn't know what was bothering her, but everything she did went wrong. She cut her finger when she was chopping pumpkin for her mother to make a pumpkin pie. She spilled half a pail of milk as she was taking lunch to the men in the field. She caught her dress on a prickly bush and tore it. And every time she picked up the baby, he cried.
"This just isn't your day," her mother said toward the middle of the afternoon. "Why don't you go on down the road and try to find some grapes? You'll like that. But mind you don't go too far."
Oh Ann!!! How I know you, dear child!! That afternoon trip to find some grapes turned up a very famous dinner guest, and whatever I may think about the art of storytelling here, I found compelling messages embedded:
1. Sometimes life takes us places we don't want to go.
2. Sometimes the effort and energy required to inhabit a place takes all the effort and energy we can muster and we can't accurately find words. Or don't have any.
3. Sometimes we need time and space to just go look for grapes. It is a gift to have people in our lives who recognize this and even more, to help make it happen.
So now……think George Washington's coming to dinner, or maybe more to the point: thread from a great great grandmother.…After I finished reading and was thinking on these things, I came across this song entitled North, which was inspired by the artist's newly purchased home but indeed I found so much more. (To be clear – I am not simply talking about geographical Place in this post. Though the irony of this song title is not lost on me!)
4. As we inhabit whatever our place, may we find the strength and the nerve that it takes…..Give us Bread, Give us Salt, Give us Wine.