When is it time to plant vegetables in Oregon? This headline in the form of a question caught my attention and I paused to read the article in my news feed.
"One of the biggest mistakes people make is to plant too early," said Weston Miller, a horticulturist with Oregon State University's Extension Service. "They get excited when it's sunny for a few days, put plants in the ground and think they will grow. But the seeds either rot from damping off fungus or germinate very slowly. At the very least, they'll be stressed for the rest of the season and never catch up."
Here in Anchorage, we gardeners have been very excited by our early snowmelt and the abundant sunshine in recent weeks. Ryan and I went to Alaska Mill and Feed and may have come home with ALL THE SEEDS. This is only our second summer of backyard gardening in all these years we've lived in Alaska and we are eager to get it going.
Last Friday we eagerly watched as our favorite Tall Trees stump grinder wrestled his machine through the last of our backyard snow to turn our stump patch into fabulous gardening soil. When the sun came out on Saturday morning we pulled on our boots and went outside. The ground is finally thawed enough to turn the dirt in the beds close to the house and so Ethan and I worked at that while Ryan planted broccoli, cauliflower, and flower starts. On heat and under lights in Ryan's room now, these babies are wasting no time popping their heads up, joining a variety of other plants he's started.
With dramatic light and temperature characteristics, Alaska has unique growing conditions, but the gardening principle remains: timing matters. I follow gardening columnist Jeff Lowenfels in the Anchorage Daily News – he's been posting a weekly gardening column there for 40 years! – and last week he put it this way: If you wait too long to do certain things, you miss our season. …..The same is true if you move too early. You just have to know when to do things.

You just have to know when to do things. Our spring arrived early this year – in a record breaking melt out. And we've had sunny, warm (50 degree!) days. It's easy to think about garden planting when it's April and the sun is shining and the sky is blue.
But it snowed yesterday. So many great big flakes. This morning we woke up to a white blanket lightly spread over everything. It's not the stick around kind of snow, I call it time-release rain. But the fact is, in this third week of April, it is cold enough to snow. And that is not plant the garden time.
Wait till the end of May, is what the local gardeners say. In his article last week, Lowenfels offers a measure I hadn't heard before: wait until the birch leaves are the size of a squirrel's ear to plant most things outside.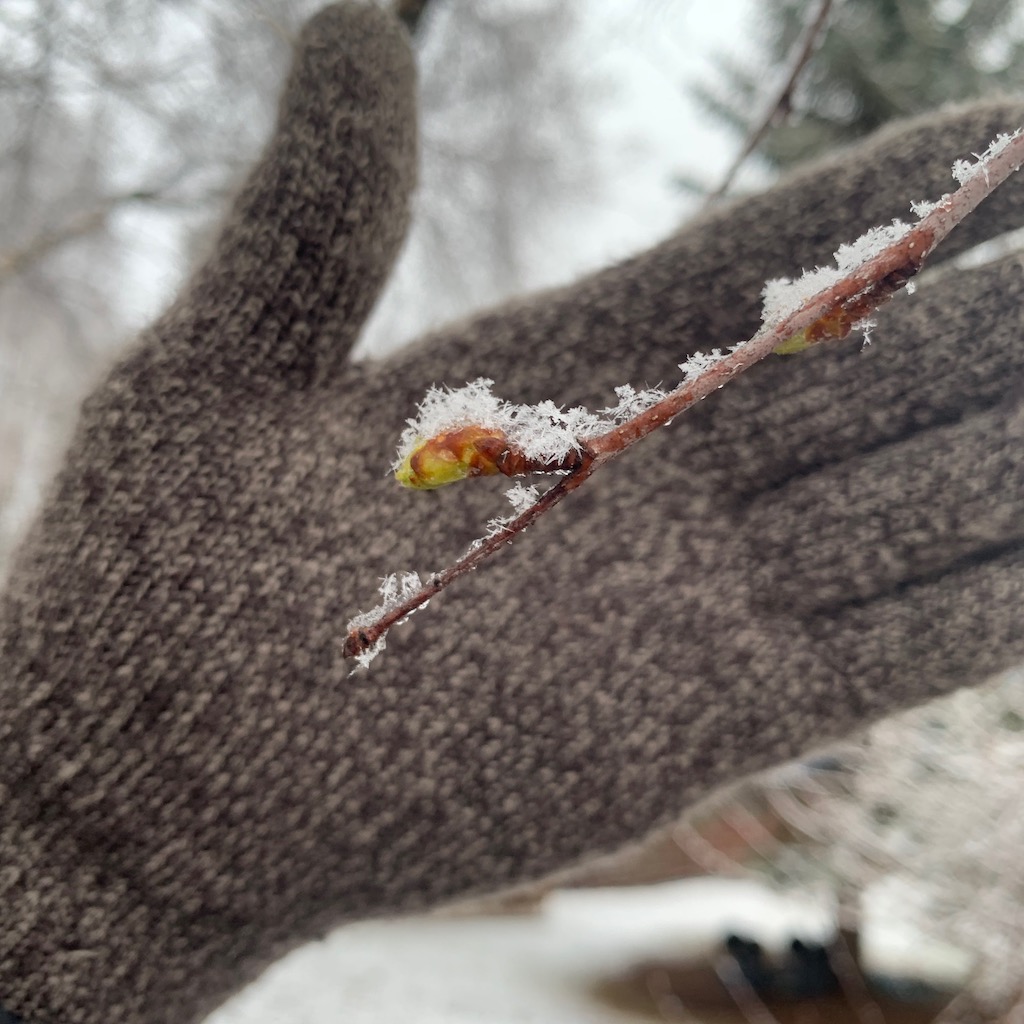 I guess not yet.
---
17 Beats on Gardening
How We Live
backyard work and play
Boots at the Back Door
growing conditions