We drove 5 hours up the Parks Highway to Denali National Park with David's parents in the middle of June 2012. That was our first summer in Alaska and we didn't really know what to expect. From Anchorage we had often seen the Great One standing tall in the distance on a blue sky winter day, but I'd heard it is more common for visitors to NOT see Denali than to see her. In fact, on a Park Road tour, only about 1 in 3 do.
But no disappointments this time! On our drive up we locked in our Denali sighting with an amazing stop at Denali View South.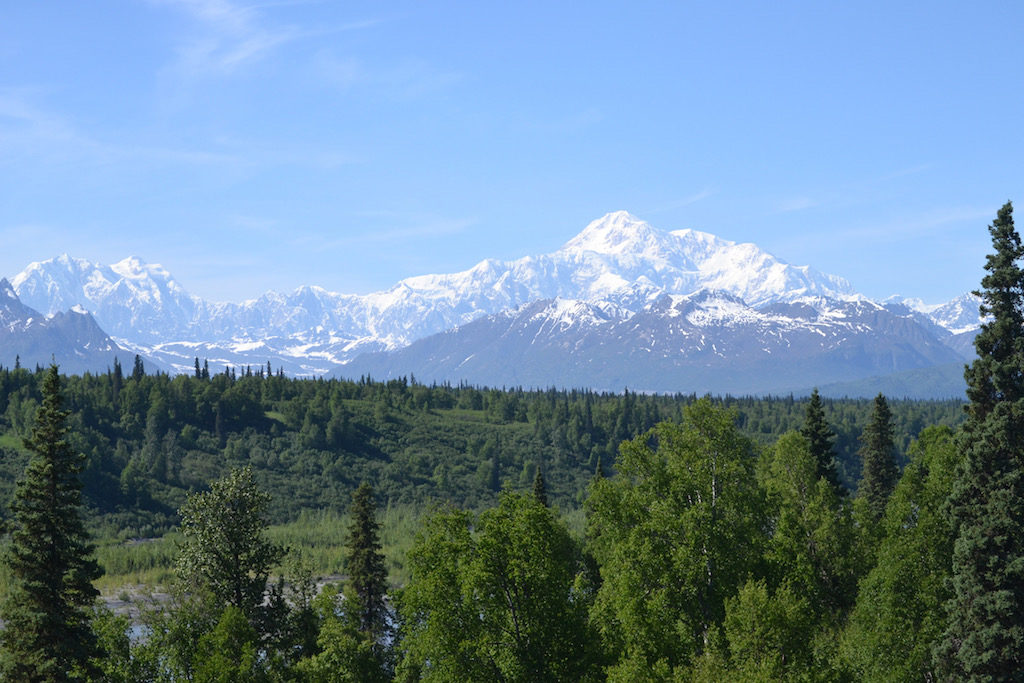 We had reservations at the Denali Princess Lodge (not to be confused with the Mt. McKinley Princess Lodge – but that's another story altogether!) and arrived late afternoon. That night we ate dinner outside on the deck of one of the lodge restaurants. Magical memories in a gorgeous landscape. We were just a few days from summer solstice at that point and I was deep into my fight with endometriosis – not sleeping much. So I got up and took a picture at 3am because…..light outside all night.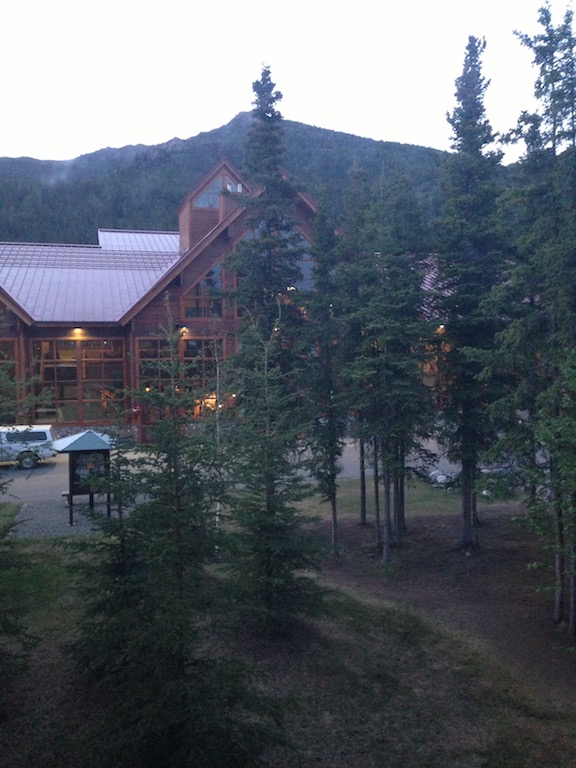 The next day we took a Park Road tour. You can only drive your car  to the Savage River Trailhead, about 15 miles into the park and so one of the ways to see further into the park  is to take a bus tour. We chose the Natural History Tour, primarily for its duration, thinking about required sitting time for our group (though there are a variety of stops where we got out along the way). As the description in the link indicates, this is a great tour for learning about the park. Not so great for seeing animals. And in that bit, I came away a little disappointed. I had a friend from Oregon touring the park on the same day – they took a longer bus tour and came back with wildlife stories. We can only tell you about the mosquitos that day!!! Perhaps that was enough drama.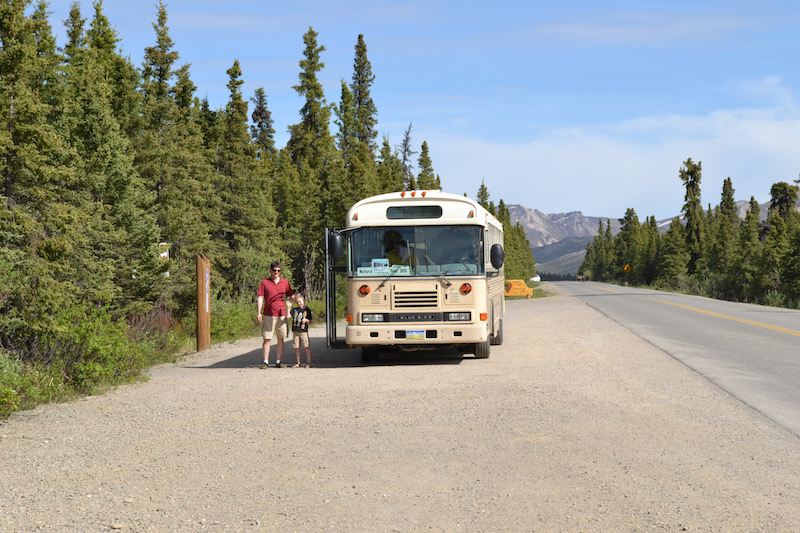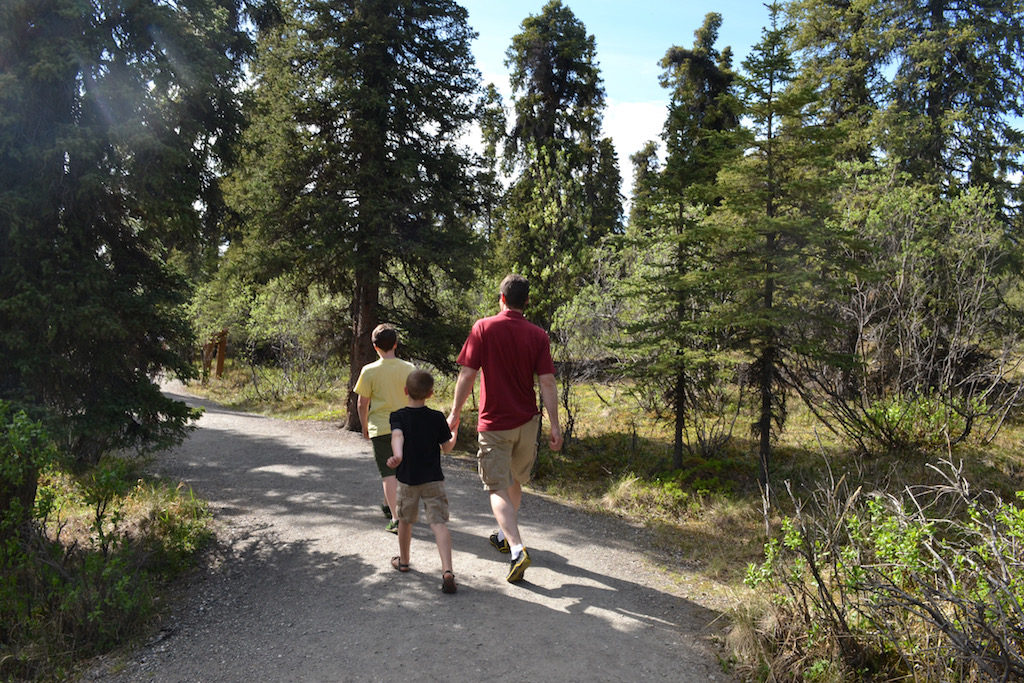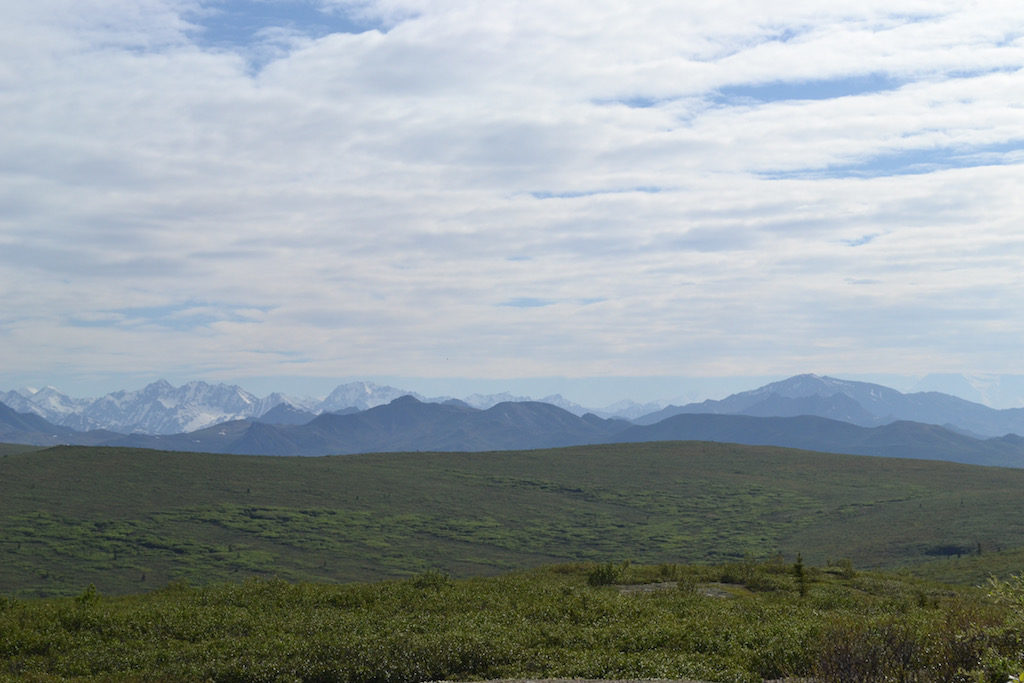 Our Tour Guide/Driver was fabulous – he told interesting stories and offered a wealth of information. At the start of the tour our group was ushered into an auditorium at the Visitor Center (which is definitely worth a bit of your time) where we watched a brief orientation video about the Park and at the end of the video our Guide asked the group how many people were in Alaska for the first time. Most of the hands went up. The Guide then asked us where we were from and he told our boys to look around. "Many of these people have had Alaska on their bucket lists for a very long time – you are very lucky boys." Indeed.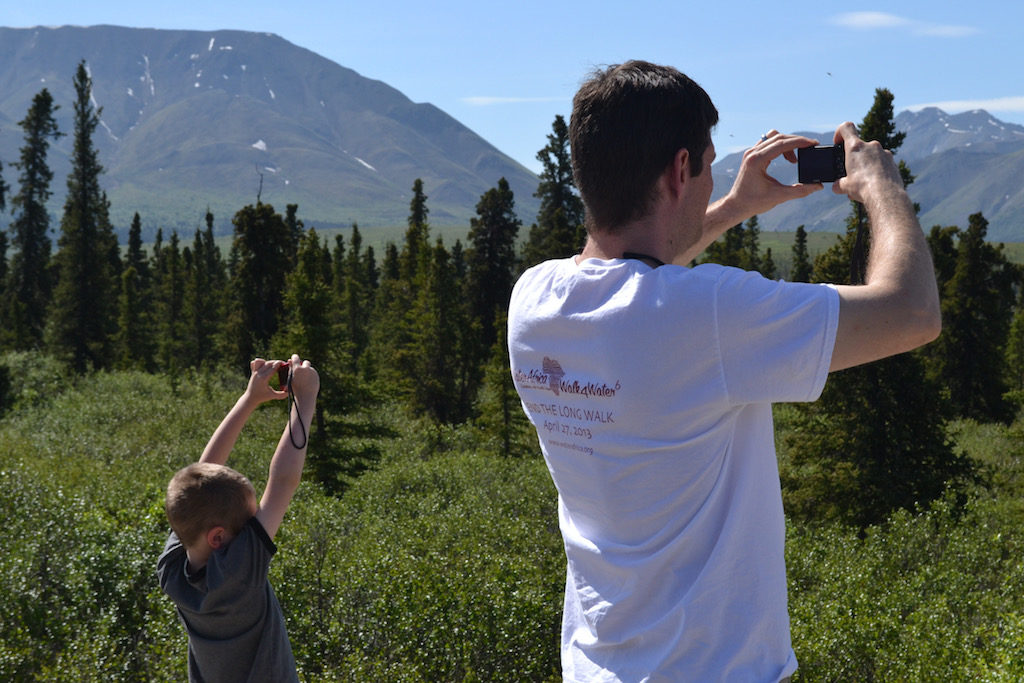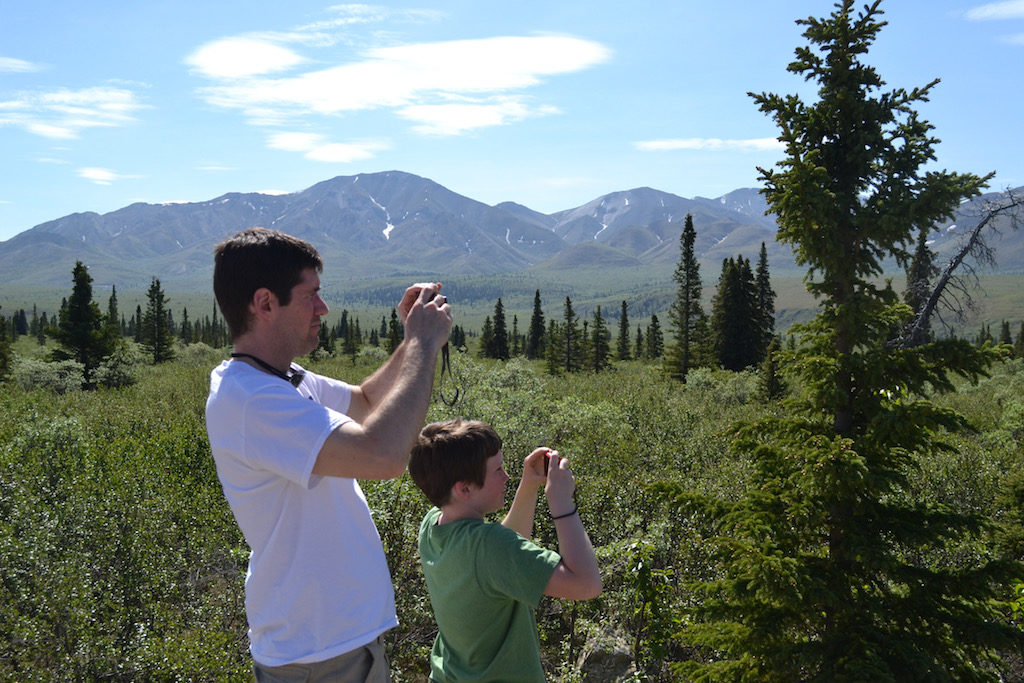 Later we drove back out to the Savage River Trailhead and the four of us scrambled around on a rock trail for a bit.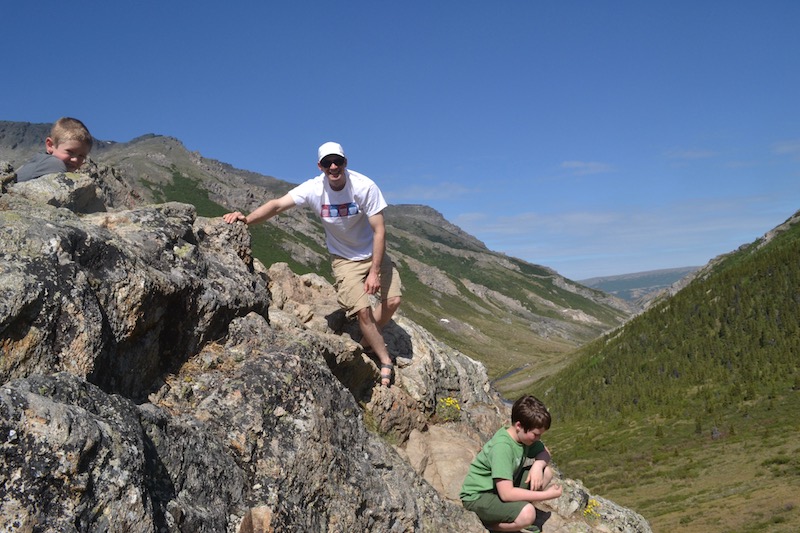 The Y below is the furtherest point you can drive your car on the Park Road. The NPS has a good overview here of the varieties of ways you can get in and see the park.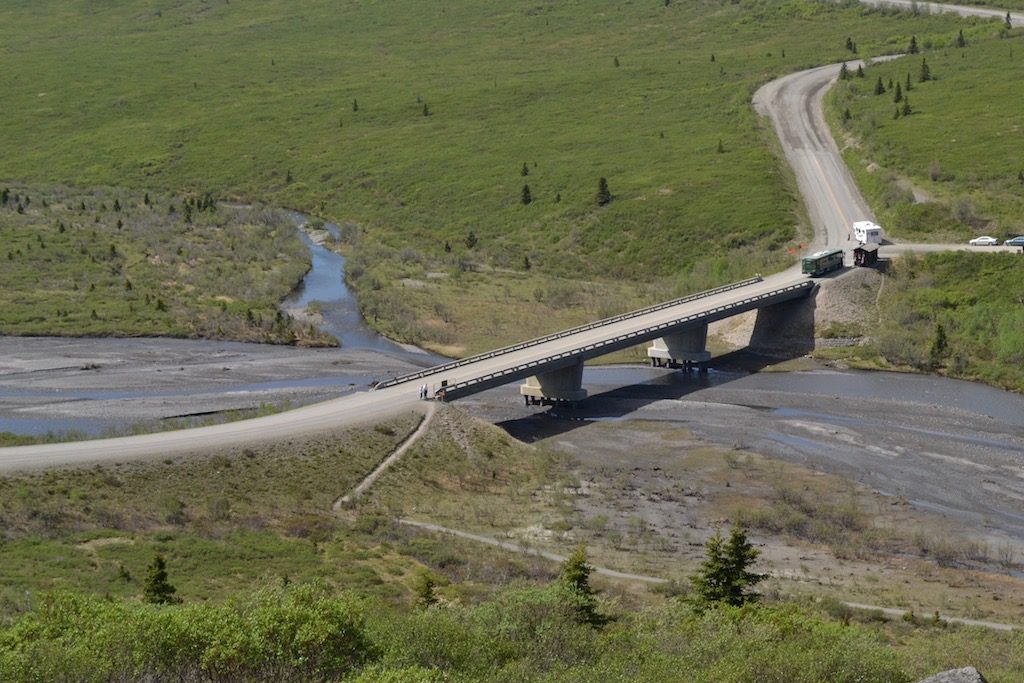 Last summer Ryan spent a few days working with Alaska Geographic and the National Park Service and he said their group did some fun hiking around Savage River. Ryan really loves it in the Park and Ethan is looking forward to his 6th grade class trip  – camping at Denali in May. I am a bit more ambivalent. I've been in the Park a couple times now, but my experiences have been more limited in terms of boots on the ground and if it's going to be that, combined with the high chance of not even seeing the mountain…..I'm not inclined to put the Park very high on a bucket list trip to Alaska. I think this article makes some pretty good points about all that. However, if you can get deeper in to see more animals, or have time to camp or hike, then I think it is a fantastic, worthwhile experience, even under clouds and rain.