Hey, I want to show you something, said my friend, as she steered her truck off the north-south Minnesota thoroughfare and navigated west, through a maze of neighborhood streets I'd never be able to retrace.
It was a warm Saturday afternoon in July. (seriously – 70 degrees!) and we'd just been downtown at the Skinny Raven Her Tern bib pick-up party – shopping for running gear, chatting with our running coach, and eating food truck lunch. For weeks we'd been training diligently for this ladies-only race happening the next day. It is a super fun event with lots of built in support, training groups, and a famed post-race party, complete with mimosas. I had joined one of the training groups in April and we'd been meeting 2x a week – running drills and long runs together, building skills and speed and friendships.
I've been sidelined by my breakable body so many times in my life so it had felt nearly too good to be true as race day approached – my body intact and I was turning in great times.
In fact, it was too good too be true….Just a couple weeks before the race I went out on a Friday morning run and tore a tendon in my ankle. Bad.
I had invested so much energy and a whole lot of redemptive hope into this race. But I could not run through this injury. It stopped me up short. And I grieved. Life twists and it turns – and it knocks me down.
When race weekend arrived, I hadn't planned on going to the bib pickup party, but when this friend asked if I would go with her and then we could spend the afternoon together – of course, YES.
---
Years ago, on one of my trips to Zambia with WaterAfrica, a World Vision driver took me to visit our sponsored child at her home. He drove us over hardpacked ground – on dry, dusty trails that twisted and turned through stands of short trees with no long view and no landmarks apparent to me. I have no idea how he was way-finding and even more amazing – when he finally turned a corner and stopped, there in front of us was an opening of space. In that space, a tiny home with a family, obviously expecting us – no phones or watches – it felt magical. Warm greetings and time spent together under the shade of a tree. There we were – from entirely different worlds and life experiences – we sat and talked about school, family, health, hopes and dreams. We jumped rope and kicked a soccer ball. I will not forget the sweet gift of being together that day.
Now, across the years and many many miles, I was once again being driven on twisting turning roads with houses and trees blocking the long view, and no landmarks apparent to me. (Though in this case, at least I understood how Siri could lead the way.)
When my friend stopped her truck at a grassy opening between houses in a nice, quiet neighborhood I looked around – there was nothing to say this was a place we should stop. There was simply a sign: Carr-Gottstein Park. And a single track trail cutting through the center of a small, mowed field. We got out and followed the trail, across the grass and into a small stand of trees. Then we stepped out to the other side…..into wide open, soul-filling space. It felt magical.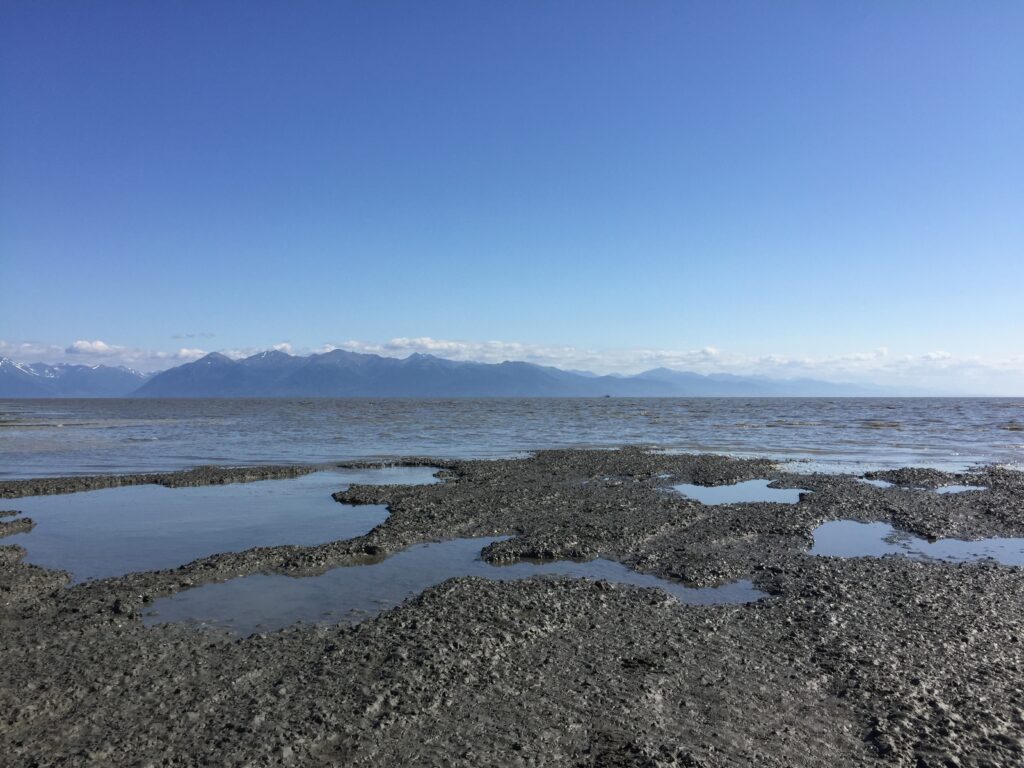 All through that long Alaska afternoon we walked and we talked, out there along the mudflats, sunshine baking the beauty and goodness deep in.
---
I've been back to the park several times in the years since. I've taken a friend, and my parents. I plug Carr-Gottstein Park into Google maps and it takes me right there. I couldn't find it on my own.
Last year our family took an Easter afternoon walk out there.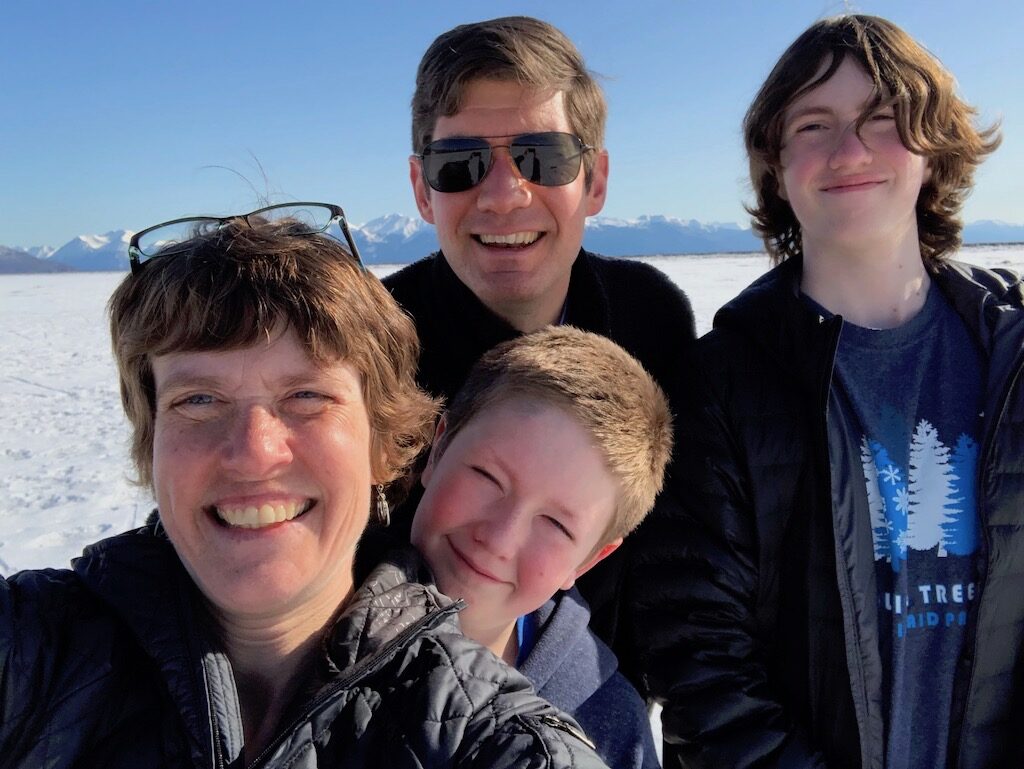 And last week David and I met up with friends to stand on the bluff and watch the 10p sunset.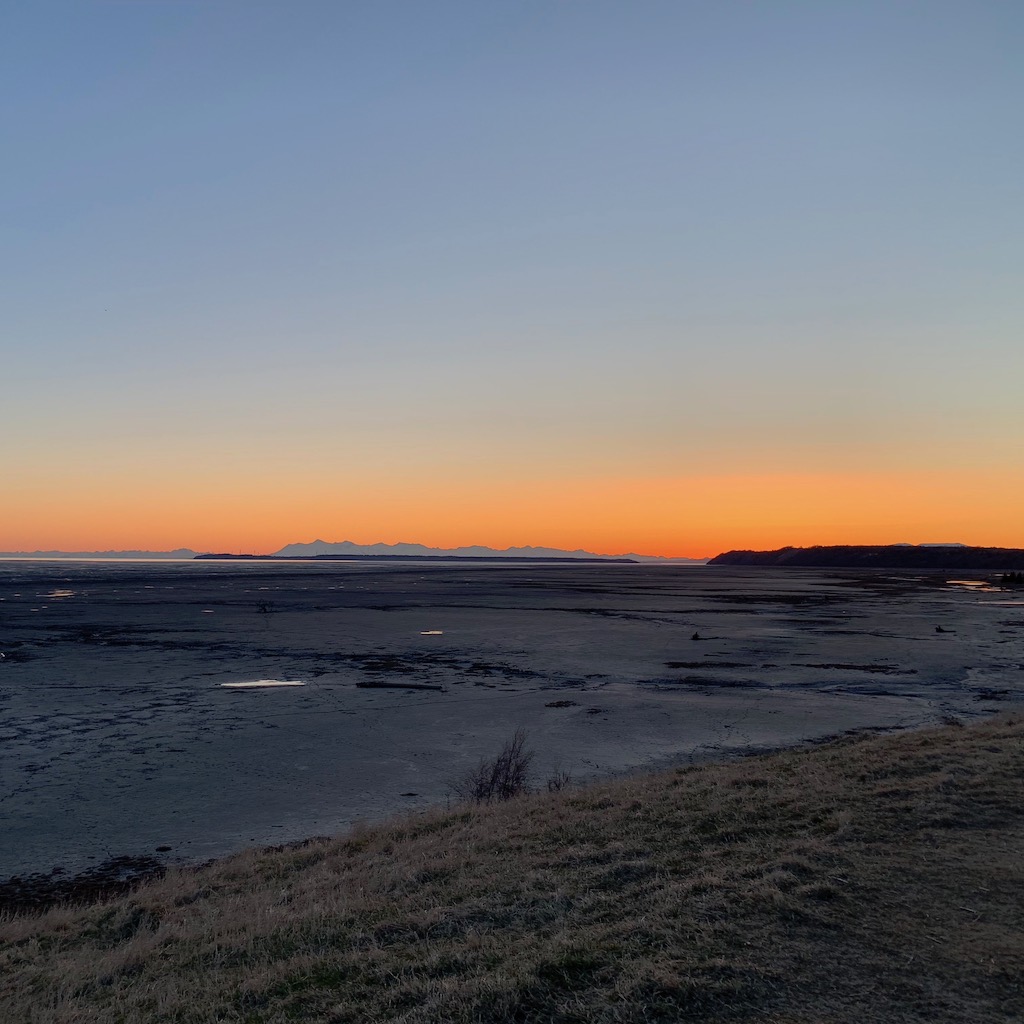 Yesterday I went for a walk with a new friend. We set out from her house in South Anchorage. We walked. And we talked. Getting to know each other. Sharing this life. The sky was textured with grey clouds, but the air felt warm (by that, I mean 50 degrees). I'm horrible at getting my geographical bearings and I was content to just walk and talk through the neighborhood – aimless, but for the time spent together.
So I was surprised and delighted to eventually find that she had a walking target in mind. And it was this – what has become one of my favorite spots in the city.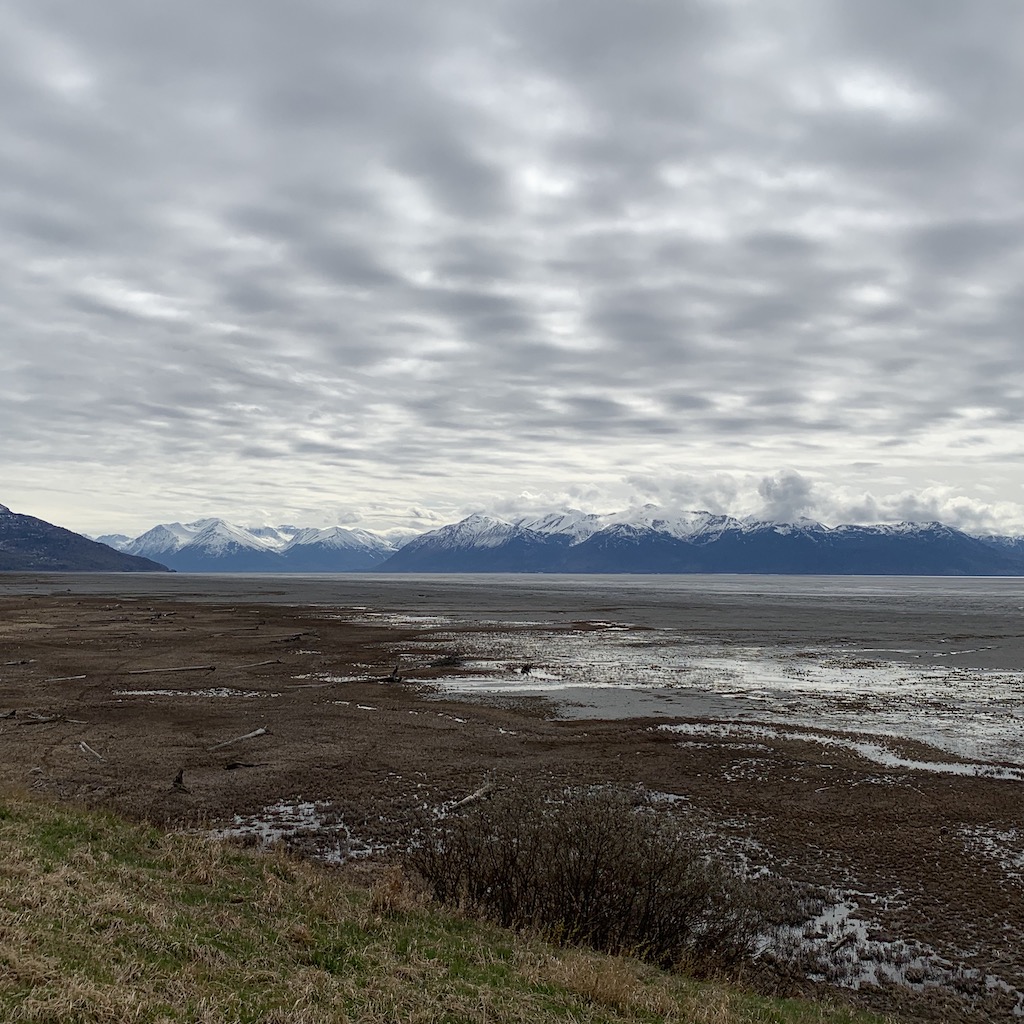 I've been thinking about what it is that makes me love this place so much. It's partly the surprise of it all. The weird way it's tucked into a regular neighborhood. The simple, unassuming walk with a HUGE pay off.
And more – it's a place I've shared with my people in this maze of a journey called life. Against the backdrop of grief, disorientation, and lack of a view, it's a place where space opens and I can believe —

Somehow. even in all of this. there is a throughline.