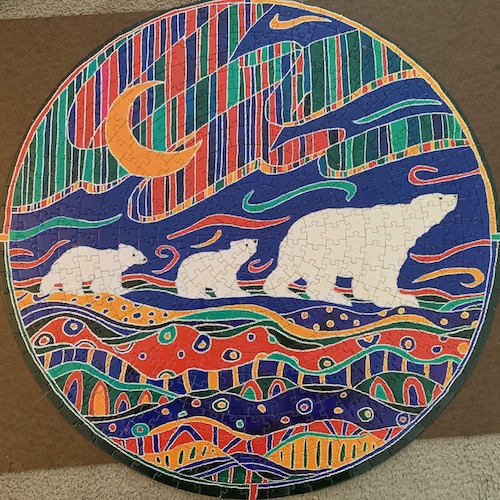 I bought this puzzle for the colors, the northern landscape, the art. I googled and found this statement on the artist: Dawn's main theme is winter; her snowy bright images capture the essence of the North in the dark time, cold, but full of colour. Her use of swirling colours representing the northern lights is a recognizable and recurrent theme throughout her works, as is her bold use of colour and brilliant combinations.
The artist's website describes her as a self taught First Nations Artist, born in Yellowknife, NT. She is a direct descendant of Chief Snuff of the Yellow Knifes, one of the signers of the original Treaty 8 with the Government of Canada. See more of her work here.
With regard to the puzzle itself – when I first started working on it, I wasn't sure I'd want to ever do it again. It wasn't an easy puzzle, I suppose particularly when compared with the Vintage Tins puzzle I just finished. But spending time in color against my real life dark was very nice and by the time I'd finished, this Aurora Family puzzle easily earned itself a spot on my puzzle shelf, rather than on the giveaway pile.